Specialist Services designed and delivered a 24 module 46 man multi-purpose temporary living quarters (TLQ) complex on a rental basis for Gulf Drilling International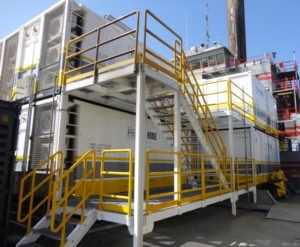 Gulf Drilling International (GDI) awarded Specialist Services a rental contract to deliver a 24 module, multi-purpose, DNV certified TLQ complex to support their operations in Qatar with minimum rental contract duration of 18 months.
Project: GDI Dixie Patriot Temporary Living Quarters Complex
Client: Gulf Drilling International
End User: Dolphin Energy
Location: Qatar
Project Completion: The project was handed over to the client within 2 months from the contract award
Project requirements
GDI required from Specialist Services a multi-purpose TLQ solution designed to support accommodation for 46 POB, including a modular walkway system on a minimal laydown area. GDI had specified DNV as the class society for the TLQ certification and A60 as the required fire rating for the modular complex. Due to a high level of H2S gas concentration at the client's operation location in Qatar, Specialist Services were required to install additional gas detection and dampers in and around the modular complex, tied back to a dedicated gas panel in the vessel's bridge for monitoring.
Solution
In line with all of the client's requirements, Specialist Services supplied GDI with a 24 module TLQ complex comprising of accommodation, gymnasium, recreation, conference and locker rooms, offices and medic facilities with a complete bolted walkway system, all designed around a fully modular installation.
Due to the size of the facility and the client's specifications, some of the modules had to be modified from their standard 20' footprint by combining two 20' modules as double-wide modular units constructed to support the recreation room, gymnasium and conference room. This was the first time that joined modules were completed by Specialist Services from existing Modular Hire fleet assets. All of this was done whilst maintaining all of the modules existing DNV, A60 and CSC certifications.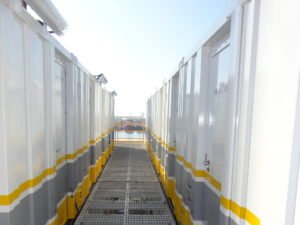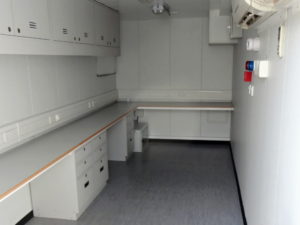 The walkways for the TLQ complex were designed and constructed using a fully weld free bolting design for the first time and were fabricated and installed on site within a 3-week project lead time. Additional gas detection and dampers were installed in and around the modular complex, tied back to a dedicated gas panel in the vessel's bridge for monitoring, as required by the client.
Conclusion
The Dixie Patriot has been contracted by Dolphin Energy to provide additional accommodation for client personnel working on upgrades to Dolphin Energy's Qatar based natural gas platforms. The project was completed on site at Damen Shipyards, Hamriyah Port – Ajman on board the GDI Dixie Patriot Lift-boat within the tight lead time of only 3 weeks and in line with the sailing of the vessel to Qatar, which was to set sail to the end user in Qatar.
The TLQ complex is currently still on rental at GDI Dixie Patriot Lift-boat and includes 11 four man accommodation units, 2 one man accommodation units, 2 four man office units, a 10 man conference room, a gymnasium unit, a 2 bed sickbay unit, 2 locker units, a 28 seat TV room and a galvanised walkway system.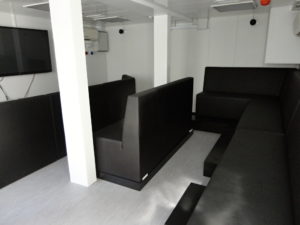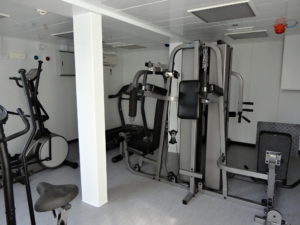 The completion of this accommodation complex signified the largest TLQ solution delivered until December 2012, installed and commissioned by Specialist Services for a rental contract. This project opened an entire new market for the business as a provider of complete turnkey temporary accommodation complexes on both long and short term contracts.