Spare Parts and Architectural Products
Specialist Services offers a comprehensive range of spare parts and upgrade package solutions for all of our products. With a comprehensive stock of parts available in our Dubai, Aberdeen and Singapore service facilities, we can offer a fast and efficient turnaround on all parts to all global locations. As industry leaders in our field we are dedicated to providing solutions to our customers and can advise on anything from direct replacement parts through to the replacement of obsolete items and upgraded equipment to meet the latest industry standards.
Our continuous research and development puts Specialist Services at the forefront of technology and industry advancements, which allows us to provide you with the best possible advice regarding parts, materials and upgrade equipment and compliance with the latest industry standards.
We can supply parts on an individual basis as and when required or provide a comprehensive emergency and operational spares kit for each of our products to reduce your down time in the event of a component failure. Our global network of Service Support Teams are available at any time to discuss your spare parts, material and upgrade requirements.
Certified architectural products
All Specialist Services A60 certified doors and windows are manufactured in house to the highest industry standards and held in our stock along with a vast range of architectural products used within our products. Since our products are primarily for use in offshore topside and floating installations, they hold the necessary dual International Maritime Organization (IMO) / Marine Equipment Directive (CE 96-98-EC) (MED) and United States Coastguard (USCG) certification expected by the end user.
For technical support you can contact us at maintenance@specserve.com.
Doors
Specialist Services build external and internal doors under license to any configuration required, allowing us to provide a solution to any requirement. We can provide 'A', 'H' and 'J' class doors and BD Systems for 'B' and 'A' class doors. By having the ability to design and manufacture a comprehensive product range in-house, we are flexible in producing any size with any option of hardware required. We also supply blast doors with blast rating of 10 PSI at 200 msec or more, depending upon project and application requirements. Door options include single or double swing, single sliding, vision panel, kick-out panel, blast loading, water-tight, fire hose hatch, full stainless steel construction and other.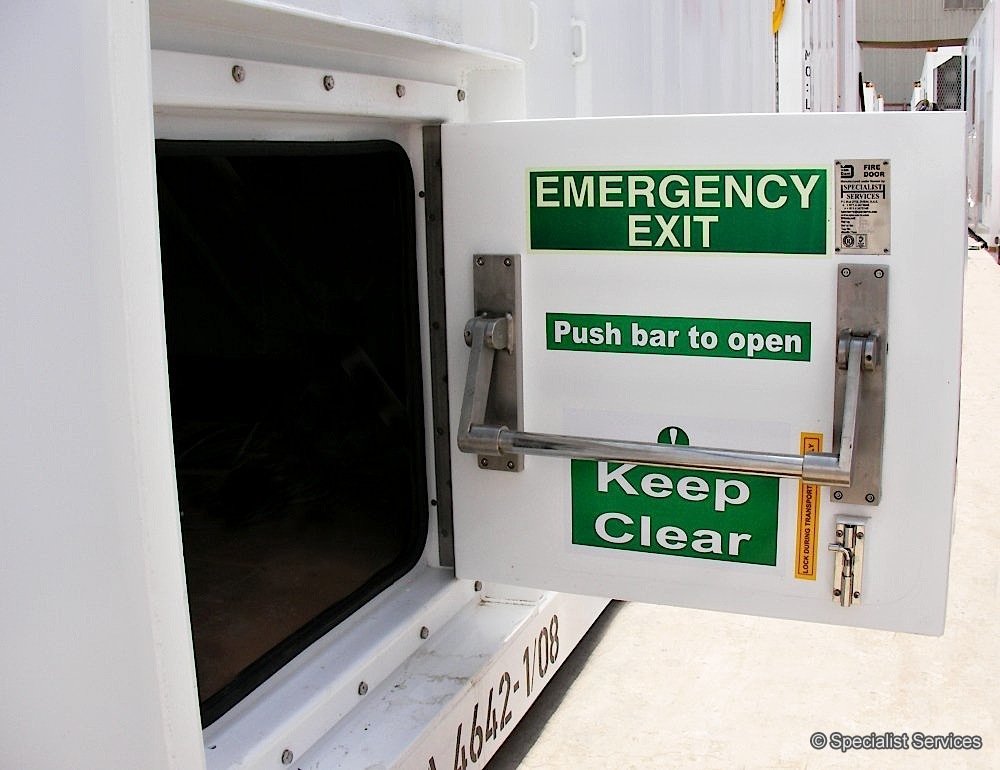 Windows
We also provide licensed fire and blast rated windows with any required configuration and size. Windows manufactured by Specialist Services carry IMO / MED certification and can be installed on fixed and floating oilfield installations and on vessels. We can provide 'A' and 'H' class windows, as well as blast rated windows, with blast rating of 10 PSI at 200 msec or more, depending upon your project specific requirements. Our window options include single glazing, double glazing, counter frame and counter frame with integral venetian blind.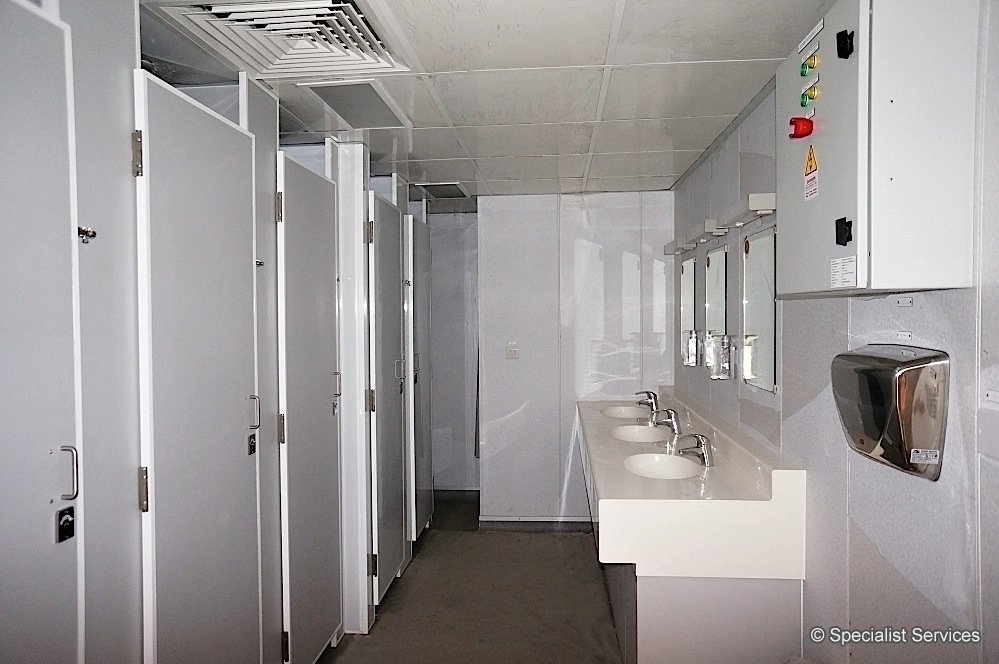 Wet Units
By using modular units constructed from Lloyd's approved GRP (glass-reinforced polyester), we offer a simple solution to bathrooms for our clients. The completed modules are fully watertight and offer a clean, durable and maintenance free surface to meet high and heavy usage demands of oilfield, marine and other construction installations. Within our product range, there are a number of standard configurations available which should suit any requirement. For other configurations, units can be purpose built to suit client specific requirements.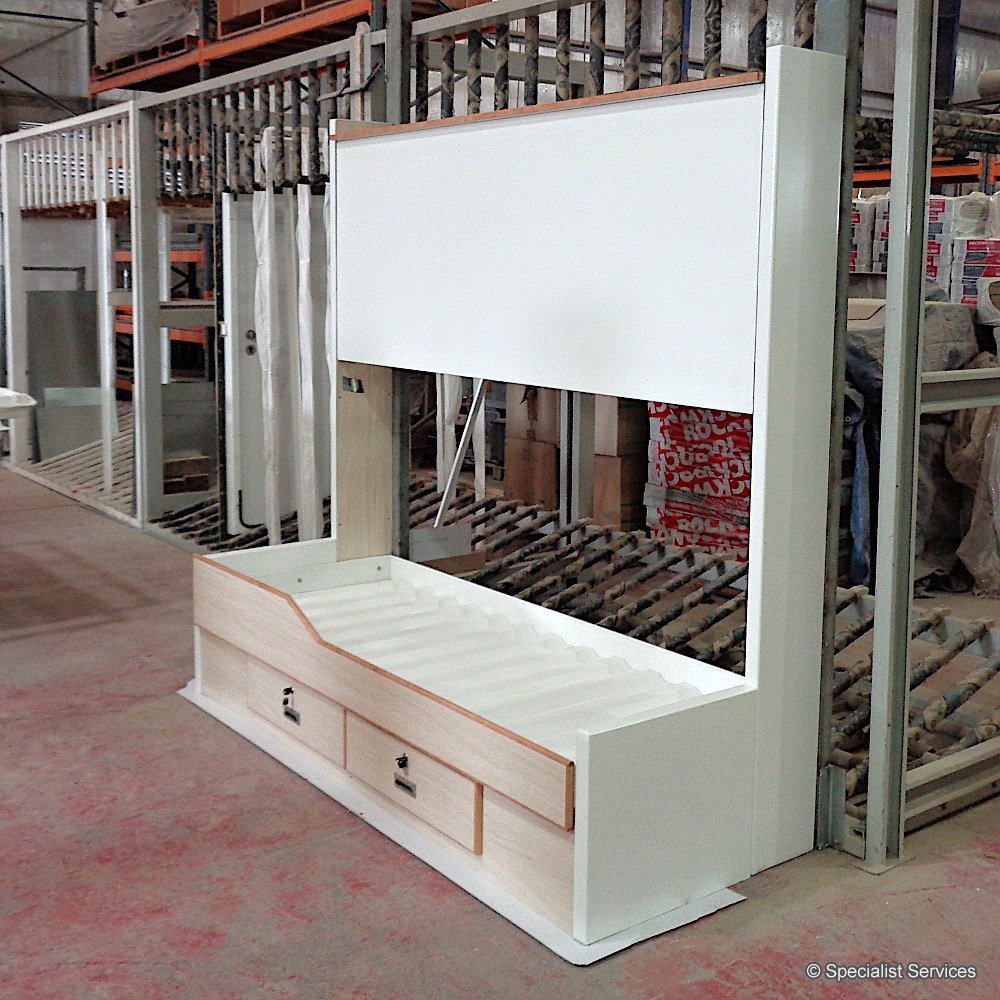 Folding Bunk Beds
Specialist Services in-house custom developed foldable bunk beds are designed to provide versatile comfort for the harshest known applications. The bunk beds offer complete flexibility for any marine application and allow our customers to increase available bed space in an instant. Our foldable bunks are available in standard dimensions or can be custom built to support any new build, refurbishment or accommodation retrofit project.