Specialist Services, part of Centurion Middle East and North Africa, is pleased to announce that they have signed a strategic collaboration agreement with ADNOC.
Under the agreement, Specialist Services, who have a long and well-established relationship with ADNOC, will manufacture Process Equipment, Skid Mounted Packages, Technical and Accommodation Modules, and Pre-Assembled Racks / Pre-Assembled Units (PAR/PAUs) in the UAE for various ADNOC projects.
The three-year agreement was signed last month during ADIPEC 2023 and will support ADNOC's push to boost the growth and diversification of the UAE's industrial sector. The partnership aligns with the UAE government's 'Make It In The Emirates' initiative, which ADNOC has supported by identifying AED70 billion ($19 billion USD) worth of industrial products to be manufactured locally by 2027.
The collaboration between Specialist Services and ADNOC is supporting industrial growth in the region and reflects the commitment of both organizations to help establish a sustainable supply chain and industrial ecosystem in the UAE.
The Specialist Services team has consistently gone the extra mile to deliver industry-leading work for ADNOC for a number of years, leading to the signing of this important new agreement.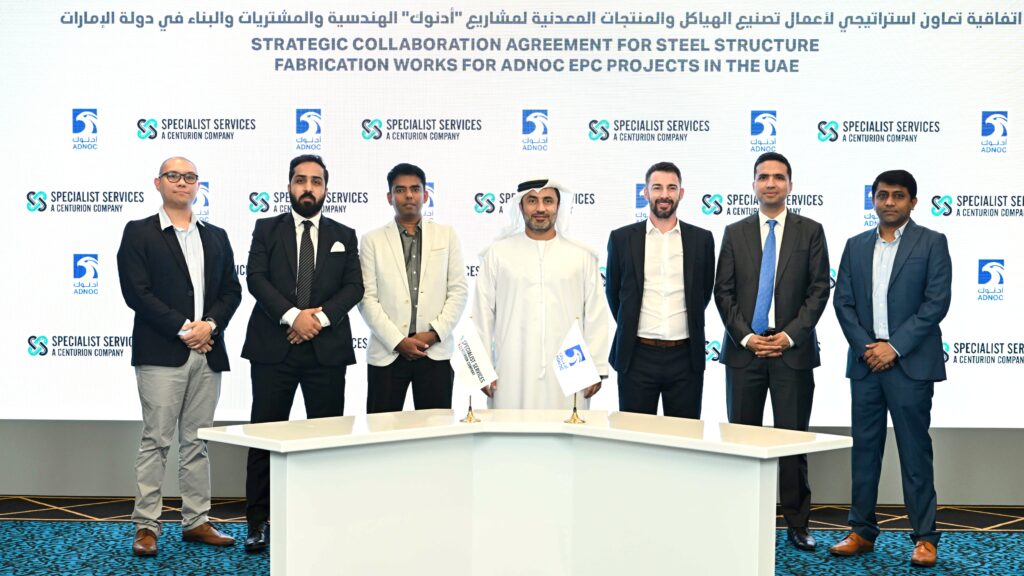 From left to right: Philip Luis Gonzaga (Marketing and Pre-qualification Executive at Specialist Services), Ahsan Waqar (Regional Sales Manager at Specialist Services), Percy Alex (Manager – Rental Segment at Specialist Services), Dr. Saleh Hashem Alhashmi (Director of Group Commercial & In-Country Value Directorate at ADNOC), Kevin Murphy (General Manager – Buildings Segment at Specialist Services), Adeel Naqvi (General Manager – DTP Segment at Specialist Services), and Pankaj Sali (Regional Sales Manager at Specialist Services).