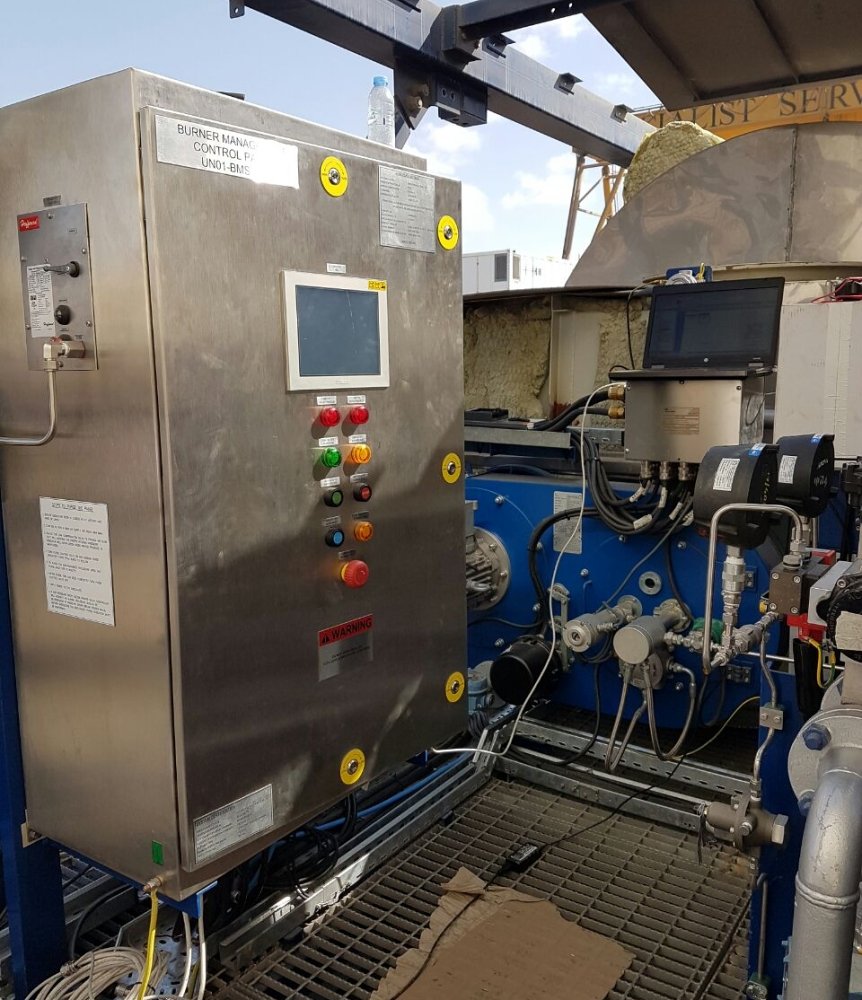 Specialist Services designed and delivered their first skid mounted process heater with SIL 2 rated Burner Management System for Zone II Hazardous Area installation
To provide our clients with solutions that increase the safety and efficiency of their operations, we have engineered and developed an innovative solution for Indirect Water Bath Heaters.
Project: Indirect Water Bath Heater
Location: Kuwait
Project Completion: January 2017
Project requirements
Within one of our latest projects for the provision of a process heater, our client required a gas fired indirect water bath heater along with a SIL 2 rated Burner Management System for Zone II, II A, T3 Hazardous Area installation.
The Burner Management System (BMS) is a safety solution, which is used to start up, monitor and shut down process burners in industrial applications. The complete heater along with the BMS was required to be mounted on a modular skid for ease of transportation. Usually, control systems are placed in air-conditioned rooms in a safe area, but in this case, the site ambient condition was harsh and humid, which is not suitable for control system components.
Solution
Specialist Services designed, engineered and manufactured the indirect water bath heater together with the BMS, in line with all client requirements. The heater is fired by a classified explosion-proof industrial burner. Fuel to the burner is fed through a gas train certified for Zone II installation. The complete combustion, process monitoring and control is achieved through the skid mounted SIL 2 rated BMS.
To mitigate the harsh and humid site environment, the BMS was installed within a SS316 control panel with Z-type Purging and the internal components with conformal coating.
Conclusion
This was an innovative engineering project for Specialist Services, where the Hazardous Area Process Heater was provided with a skid mounted Burner Management System.
This new solution offers various benefits for our clients, including:
Increased safety and reliability: The BMS minimises the risk of venting natural gas, which could lead to unstable and dangerous situations. With the touch of a button the system can be started or stopped. The BMS also has an automatic shutdown in case of any fault detection, thus minimising risks and losses.
Improved efficiency: The BMS provides an increase in process heater efficiency as well as a decrease of unplanned shutdowns.
Ease of monitoring and control: Complete process monitoring and control can be done through the HMI screen, while all process details can be shared with the DCS (client control system).
Environmental benefits: Aside from the obvious environmental threat from a natural gas explosion, with the use of the BMS, the burner's increased efficiency reduces greenhouse gas emissions.
With one of the Specialist Services core values being to pursue quality and safety in all aspects of our work, this innovative solution represents a further confirmation of our exceptional engineering and manufacturing capabilities.