Innovation helps Specialist Services lead through challenging times
With a proactive approach, throughout these challenging times, Specialist Services has been continuously working on innovative solutions that maximise efficiency for our clients, while optimising costs, as clients are hugely price conscious in these uncertain times.
Ian Rogers, CEO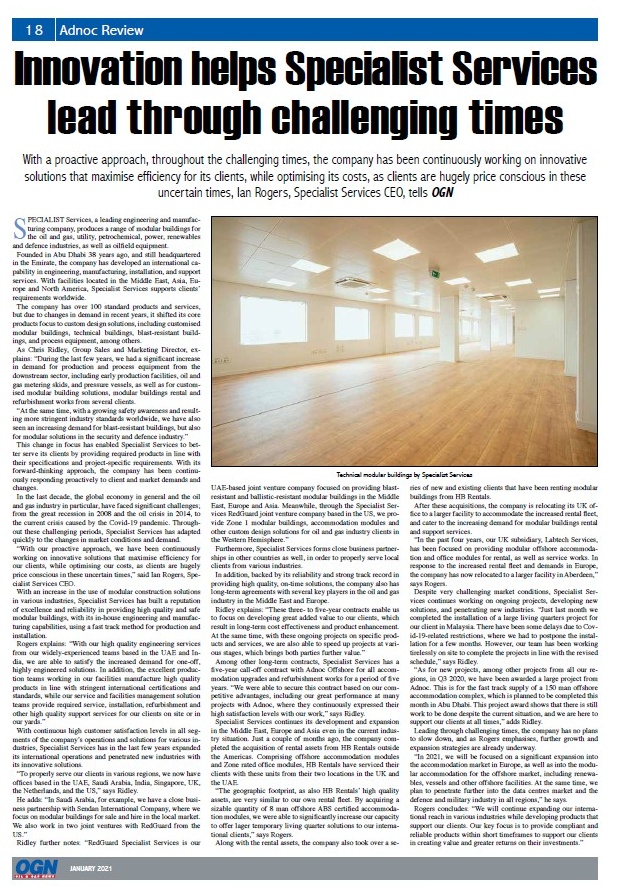 , and Chris Ridley, Group Sales and Marketing Director, speak to OGN about the changes in demand in the Oil & Gas industry and the company's proactive and innovative approach in addressing these changes to better serve our clients. They also discuss about the Specialist Services' forward-thinking approach in addressing the increasing demands for specific products in other industries, such security and defence, renewables, vessels and others.
Within this ADNOC Review issue of OGN, Chris Ridley also talks about Specialist Services' long-term call-off contract with ADNOC Offshore for all accommodation upgrades and refurbishment works for a period of five years.
While continuing our development and expansion in the Middle East, Europe and Asia, we have recently completed also the acquisition of rental assets from HB Rentals outside the Americas, which include offshore accommodation modules and Zone rated office modules. Leading through challenging times, we have no plans to slow down, as further growth and expansion strategies are already underway.
Find out more in the feature article available online.